Whether you're thinking about starting a blog or an eCommerce site, the question on your mind may very well be 'Should I use WordPress or Wix?' From personal experience, having built websites on both platforms, I can confidently state that there is a definite winner in this duel. However, there is a small caveat, even though there's an easy winner for me, it may not suit your specific needs so it's worth looking into the differences between these two platforms to see which one is best for you.

When I say that I have built websites on both platforms, I'm not making that up for the sake of this guide – I created PaidFrom.com using WordPress and I created AmateurLandlord.uk using Wix so I'm able to offer genuine insights into using both platforms. Without further ado, let's jump straight into this comparison of Wix vs WordPress, beginning with the ease of use.
Ease of use
Let's first look into how easy each platform is to use.
WordPress – Easy to use… for experienced website builders
People often say that buying houses and getting married are some of the most stressful experiences you can go through, well I'm here to tell you that building a website on WordPress as a complete beginner is definitely on that list too. If WordPress doesn't hold the record for the most sworn at website, I'm not sure what other website would. I found the process of using WordPress incredibly frustrating, even though I watched a dozen step-by-step guides. There was always an unforeseen issue, whether that was a particular theme being unavailable or the instructional video only being relevant to the USA (not all themes available there are available in the UK).
Having said that, I don't mean to scare you away from using WordPress. Once you get used to it and come armed with all of the necessary plugins and themes, building a website with WordPress is fairly easy. I'd recommend WordPress to anyone who has website building, graphic design or coding experience. People working within marketing may also have an easier time working with WordPress.
Wix – 5 minute website
Building a website with Wix is by far easier than building one with WordPress. I'd argue that you wouldn't even need to watch a step-by-step, it's all incredibly easy to figure out. You can either go down the route of finding your own theme or you could have Wix build the website for you – they do a pretty decent job at putting together a basic site for you. Once you have the theme in place, customise it by simply dragging and dropping items from the menu on the left-hand side – choose from hundreds of options such as text boxes, pictures, shopping carts and animations.
In terms of ease of use, the only downside to Wix is that it's a lot harder to edit the code than it would be with WordPress, making it harder to use for more advanced website builders.
Price
WordPress
WordPress offers five packages:
Because WordPress is an open-source CMS, you can use it for free. The trick is that whilst you may be able to build a site for free, you're going to have to pay for hosting a domain name. Also, if you require any plugins you're going to have to upgrade to the 'Business package'.
Personal – £8 per month or £36 annually
The lowest WordPress paid package includes hosting, the removal of WordPress Ads, the ability to collect payments and unlimited email support. You will still need to purchase your own domain and as with the free package, you don't have access to plugins. My personal opinion is that this package is absolutely pointless – you're basically just paying for hosting which, for £8 a month isn't exactly a great deal.
Premium – £17 per month or £84 annually
For this package, WordPress throws in a bunch of semi-useful features such as live chat support, the ability to earn ad revenue, premium themes, the ability to upload videos and a Google Analytics integration (you could just do this via Google Analytics for free). Whilst it's an improvement on the personal package, it's not exactly a great offering.
Business – £32 per month or £240 annually
This is where we finally receive the vital functions of WordPress – access to plugins, advanced SEO tools, Jetpack backup as well as database access. This is pretty much all we need to build a kick-ass website on WordPress. The price is quite steep I will admit, so this is best recommended for people who wish to invest into their website from the very start or people wanting to revamp and upgrade their current website.
eCommerce – £55 per month or £432 annually
This package opens up all of WordPress for you, giving you access to integrations with top shipping carriers, premium design options and the ability to accept payments in 60+ countries. As it says on the tin, this package is meant for eCommerce websites. If you aren't running one, I would recommend saying on the Business package.
Wix
Wix also offers five different packages including a free option:
Wix will provide you with hundreds of templates and hosting for free, which may sound like a fantastic deal until you consider that your site will effectively become an ad for Wix. They will run ads on your website and you won't be able to change your domain name from the default username.wix.com/sitename format. If you're okay with this, by all means, get the free package but I would strongly recommend checking out the paid packages.
Connect Domain – £4 per month
For the low price of £4 a month, Wix will also give you a custom domain and a free SSL certificate but it will continue running Wix ads on your site. A bit of a pointless package if you ask me, more so a marketing method to get you to purchase the more expensive packages.
The first decent quality package adds in a free domain for a year, removes the Wix ads, gives you an allowance of 30mins of video and throws in a £75 ad voucher for Google Ads when you spend £25. This is a fairly decent opinion and what I use personally. As long as you're not selling anything or adding long format video on your site, this package should suffice.
Unlimited – £11 per month
If you opt for the unlimited package, you receive access to the site booster and visitor analytics apps for one year. For the most part, these apps aren't really that useful because you can use Google Search Console and Google Analytics for visitor analytics.
Meant for larger websites, this package increases your storage space, video hours and throws in a professionally designed logo.
Wix also offers eCommerce versions of the unlimited and VIP plans for £20 and £27 a month. These give you everything you would need to build a successful eCommerce store.
---
Overall, the best package for WordPress is their business plan which would set you back £240 annually; whereas, the best package for Wix would be the combo or unlimited plans which would cost £90-£132 per year. Quite obviously, Wix is a far cheaper option but do remember that there's a reason why Wix is so much cheaper – it's meant for beginner websites, not exactly fortune 500 companies.
Creating the Website (Design)
The process of designing a website is very similar on both WordPress and Wix – you choose a theme and then customise it with different widgets, design elements and so on.
WordPress
WordPress offers over 200 pre-made themes for you to choose from (business package and above) and thousands more from all the available plugins – Astra being a great plugin for this. Or, if you consider yourself a design genius, you have the freedom to start with a blank canvas.
When you have a theme in place, you can start customising it to give it some personality and brand identity – WordPress offers a fantastic range of blocks and widgets not to mention over 55,000 plugins that offer even more customisation options.

When building out PaidFrom.com, I found it a tad difficult to get the site looking exactly how I wanted it to look but once I downloaded the Astra plugin, it became far easier and I was able to nail the design and layout that I was going for. As you can tell, plugins are very much a necessity for WordPress.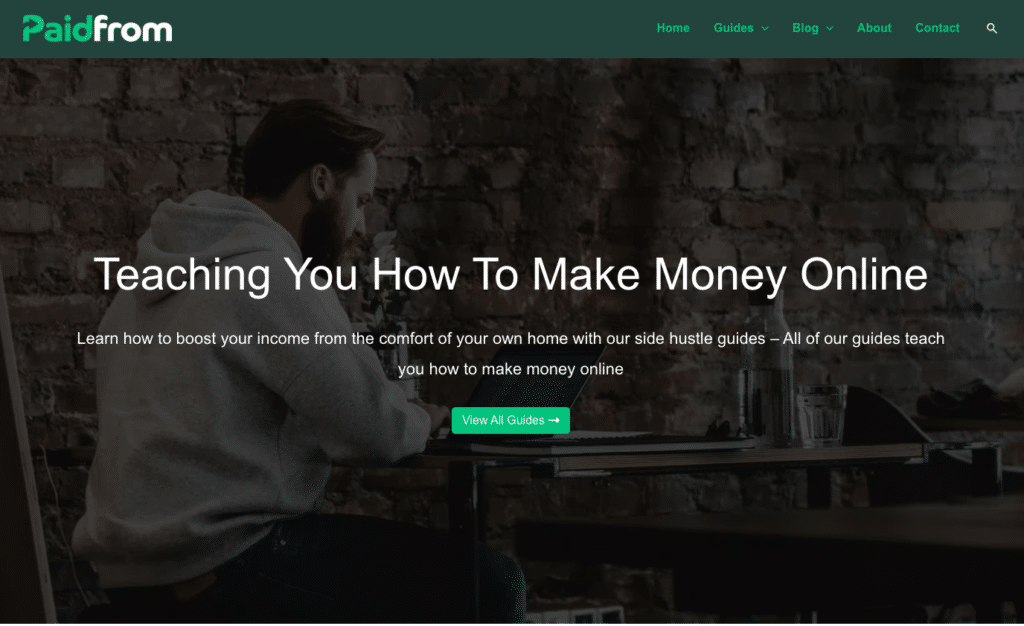 Wix
On the other hand, Wix lets you pick from over 800 free templates and many more if you pay for the premium packages. Finding a template which suits your design plans should be really easy and customising them is even easier, you can drag and drop widgets onto anywhere on your site (just make sure it's visible on all screen sizes). This makes Wix far better in terms of design and customisation, but only for beginner to mid tier website designers. Advanced users may find Wix very limiting, in which case, WordPress would be recommended.

Since i'm not exactly a professional website builder, I definitely preferred using Wix because it was so much simpler – the only issue i encountered when using Wix to build out Amateur Landlord was that a lot of widgets and designs wouldn't show up as intended on mobile devices and tablets. This isn't a hard fix but it will take you a while to go resize everything, play with the settings and create different conditions based on screen size.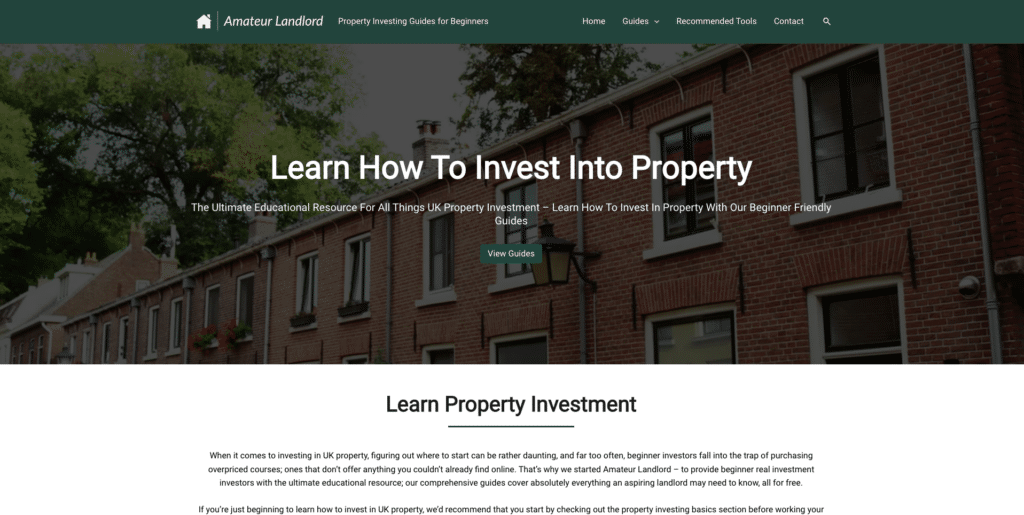 SEO

For those of you who don't know, SEO stands for search engine optimisation and is the process of ensuring that your site ranks highly in the search engine result pages (SERPs). Both WordPress and Wix offer a lot of SEO features that will allow you to put some SEO specialists to shame. For example, Google gives both of my sites an SEO rating of 100/100. Achieving scores is possible by following our WordPress SEO tips – also applicable to Wix sites.
WordPress
Although WordPress comes with some SEO functionality, it's highly recommended that you download the Yoast SEO plugin – it offers both free and paid services although the free version is more than enough to get you a 100/100 SEO score on Google.
I could list everything that you can do SEO-wise on WordPress but it'd be a waste of words, it's literally everything! From easy head title, meta description and slug alterations to adding structured data, WordPress and especially Yoast SEO is a search engine marketers' playground.
Since it's so easy to enter your own code in WordPress, you have endless opportunity for adding structured data or altering the HTML code.
When building PaidFrom, I was able to easily enter FAQ schema features into all the guides as well as site link search boxes and breadcrumbs across the site.

Wix
The most popular SEO add-on for Wix is Site Booster but it's really not necessary, Wix has greatly improved its SEO features to the point that Wix sites can compete with WordPress sites straight out of the box. Wix SEO is definitely a lot friendlier to beginners as well, as all of the necessary settings can be found under the SEO and Advanced SEO tabs or in the dashboard. Here you'll be able to alter how each page appears on SERPs as well as add schema or tags.
Having said that, there are a few aspects to Wix SEO which, quite annoyingly, forced me to accept that I won't be able to make my site SEO perfection. For example, when adding FAQ schema to my blog posts, I was left a tad bit uncertain about whether it had been implemented correctly (I'm currently waiting for Google to Index the pages to see whether it worked).
Page Speed
This is where one platform clearly takes the win – WordPress. Page speed is incredibly important, especially in a world where patience is not something we possess when it comes to websites loading – we expect them to load fast or else we will leave. That's why improving your websites page speed is vital and why this may be the reason why WordPress is overall the better option.
WordPress
Improving your page speed really just comes down to three major things: server speed, the file sizes of the images and the amount of unnecessary code on your site (especially Javascript). WordPress offers pretty good hosting with 99.9% uptime so it definitely ticks that box.
In regards to image size, there's a free plugin called Imagify which allows for image compression and conversion to webp format to make sure the file size is as small as possible without affecting the quality of the image. Therefore, image size also isn't an issue for WordPress sites.
Lastly, unnecessary code; WordPress sites are predominantly CSS and HTML, with a small amount of Javascript code in there. This ensures that the page loads up very quickly.
All of this means that WordPress sites load up incredibly quickly both on desktop and mobile (mobile loading speeds for the majority of sites on the web are atrocious). For example, Paidfrom has a page speed performance of 99/100 on desktop and 87/100 on mobile – the latter while not perfect is far better than the average for mobile sites.
Wix
Page speed is Wix's Achilles heel due to its heavy reliance on Javascript. Whilst this allows for highly customisable websites that look amazing, it's a real kick in the stomach for page speed. What's worse is that you can't really do anything about it. You would have to strip your website to its bare bones, removing all widgets and add-ons – this includes Wix blog – and even then, the page load speed wouldn't be able to match that of WordPress site.
The reason you can't remove the unnecessary Javascript code is because it is literally required for Wix to work so removing it would break your entire website.
This definitely is a real downside for Wix and something a lot of website builders don't actually consider. Having said that, Wix is aimed at beginners who likely won't care about page load speeds.
Blogging
WordPress
If you're a serious blogger, WordPress is definitely the way to go. Not because the blogging section on WordPress has way more functionality but because the blog section on your WordPress site is built in and doesn't require a plugin as Wix does. You can churn out blog after blog with ease and never worry about the amount of content slowing down your site.
However, while that's a massive upside, WordPress isn't exactly perfect when it comes to blogging – they don't have a selection of free media to feature on your posts as Wix does. While this isn't the end of the world, you will need to head over to unsplash and source your images that way.
Wix
Wix requires the Wix blog add-on which, while being really good (especially from an SEO prescriptive), adds a large amount of Javascript code onto your site. As we already know, javascript code is bad for page loading speeds so this tends to slow your Wix site down, and in my experience is a major reason why I can't achieve super-fast loading speeds on mobile.
Plugins and apps
WordPress
As mentioned throughout this guide, the vast amount of plugins available on WordPress is what makes WordPress so attractive – there are currently over 55,000 plugins available. Because it's an open CMS, any developer can create a plugin for others to use.
This does bring a downside with it, there is no vetting process so you may end up coming across a few rubbish plugins. Having said that, most people will go for tried and tested plugins with thousands if not millions of downloads – plugins like Yoast SEO or Imagify.
If you want to build a site on WordPress and wish to come fully prepared with all of the necessary plugins, It might be worthwhile to check out which plugins we use.
Wix
On the other hand, Wix offers over 300 apps – some free and others paid. The difference in quantity between Wix and WordPress may make you think that WordPress is better but I'd argue that you don't even need Wix apps, apart from maybe the blog add-on or eCommerce site apps. For the most part, everything you need is already built into Wix.
Is Wix or WordPress better?
It all depends on what you require – if you're just starting a site/blog and don't have any website-building experience or you don't want to spend loads of money upfront, Wix is definitely the better option for you. However, if you are more experienced (or willing to take the challenge on), are serious about SEO and page load speed, and want to build a site that can compete with the first page sites, WordPress would be the option for you.
Personally, I prefer WordPress because I know just how important SEO and page speed is – I would much rather take the extra time to learn how to build sites on WordPress as well as gather up all of the necessary plugins in order to have fast load pages than to prioritise an easy website building experience.
If you're still unsure, feel free to visit both my sites and play around with them – both of them have been heavily optimised to the point where nothing else can be done to improve them. Experience the sites for yourself and see which one you prefer – this might help you make your mind up. Paidfrom was built on WordPress, whereas Amateur Landlord was built on Wix.

For anyone who has a WordPress site and would like to improve its SEO and page speeds but feels like it's all too complicated, consider our WordPress SEO services – from auditing your site to improving its rankings, we can help you fire your site up those SERPs, letting you reap the rewards of increased traffic, sales and leads. If you're interested, feel free to give me a message or call.
FAQ
Is Wix or WordPress better?
Wix is better for beginners, those on a tight budget or those who want an easy website-building experience. While WordPress is better for more experienced individuals, those who prioritise page load speeds and also bloggers. At the end of the day, it all comes down to personal preference so it's ideal to learn about each platform and its unique benefits.
Is SEO better on Wix or WordPress?
The SEO functionality on Wix and WordPress is equal. Wix used to get a bad rap for its lack of SEO features, something they heard loud and clear because they keep updating their platform with more SEO-focused features. WordPress has always been great for SEO, especially with the wide range of plugins available.
Is WordPress or Wix better for a small business?
WordPress would be the better option for a small business if you intend to sell products online. If however, the site is only to bring attention to your business or to create leads, Wix may be a good option for you, especially if you're on a tight budget.
Is it unprofessional to have a Wix domain?
Whilst not unprofessional, it's not exactly ideal. Sites with a Wix domain tend to be looked down upon and have Wix ads running on their site. If you choose to use Wix, it's highly recommended that you upgrade your package and change your domain name.
Recommended Articles:
WordPress Basics – Design and SEO
SEO Experts, the steps to hiring them for your project
Why you need to consider the ICO fee