WordPress definitely isn't the easiest content management system (CMS) to use, and an even harder website builder, especially if you're a beginner who's never built a website before. Learning what each term means, what each function does and how to get everything to work in an exact way can definitely be a challenge; so it's important that you have a solid understanding of the basics of, not only building a website on WordPress, but also SEO (search engine optimisation) on WordPress.
SEO is the practice of optimising your website in an attempt to get Google to rank it higher in search engine results pages (SERPs). It's important because if your website isn't showing high up on the results pages, no one will ever see it. It could be the most beautiful site you have ever set your eyes on with loads of animations and cool widgets, but if no one will ever see it, does it really matter?
Now that i've stressed the importance of SEO on WordPress, let's dig into WordPress basics, right after a quick summary of what WordPress is for those of you who don't already know.
What is WordPress?
WordPress is a free, open-source content management system (CMS) that can be used to create a website/blog. In other words, you can build a website on it and manage it. WordPress is by far the most popular CMS out there with over 43% of the web being built on it – from small blog owners and independent shops to large fortune 500 companies. There's a good reason why it's so popular, it's the most reliable and SEO-friendly CMS currently available. In fact, this site is built on WordPress, it looks pretty good, right?
WordPress Basics
Plugins
What are plugins in WordPress?
WordPress plugins are essentially just add-ons for WordPress – they boost the functionality of your site. You can download them from the WordPress Plugins section of your site. There are plenty of free and paid plugins available so rest assured there are good options for whatever your needs are.
Plugins are also one of the most important aspects of a good website built on WordPress – without them, your site would look quite basic, have limited functionality and would take forever to actually create. So what plugins would we recommend?
Best WordPress plugins for SEO
We already have a page on which WordPress plugins we would recommend so instead of going too in-depth with this topic, let's instead do a quick summary:
Imagify – It optimises all images on your WordPress site, compressing them and converting them into webp format to decrease page load speed.
Imagify is free. A premium package is available for £5 -10 a month.
Perfmatters – It's a performance enhancing tool which allows you to run scripts on certain pages only and not site wide as with most plugins.
Perfmaters is free. A premium package is available for around £25 a year.
Hummingbird – This is a modification, caching and speed-enhancing tool.
Hummingbird is free. A premium package is available for around £7.50 per month.
Yoast SEO – It's an all-you-need SEO tool which helps you optimise your website. I use it for this website and I have to say, it's a key player in this site ranking 1st for several key terms.
Yoast SEO is free. A premium package is available for £99 per year.
What's the difference between plugins and widgets?
Whereas WordPress plugins are apps which boost your site's functionality, WordPress widgets are elements that enable specific features on your website such as a site search function or contact forms. They're usually drag and drop so can be added anywhere on your website, whether that's in the header, footer, sidebar or on a page.
Whilst plugins are usually site-wide, meaning that will affect everything on the site, widgets are more localised and have a very specific job.
Themes
What is a WordPress theme?
Think of a WordPress theme as a premade website layout – every section is already created for you. All that is left for you to do is personalise it, change all of the text, images and perhaps change the website's colour palette too.
It's important to choose the right theme for your website, one which is attractive, easy to use and has all the pages you require (trying to combine themes can lead to issues down the line so it's recommended that you find the perfect theme and stick to it). Whether you're stuck and unsure of which theme to go with or you already have a website up and running, and wish to change the theme, I'd recommend looking into how to select the perfect theme and optimise it.
Best free WordPress themes
The fan favourite WordPress theme is Astra and for good reason, it's a simple yet fantastic theme for small websites and blogs. The trouble is, whilst everyone mentions it as a free theme on WordPress, they fail to mention that you require a premium subscription to WordPress in order to access it; so in reality, it will actually cost you around £20 per month (business package).
We're not really interested in that because it's not truly free. Let's instead look at some templates that literally won't cost you a penny (all of these come packaged with the free version of WordPress):
Tsubaki – this is a great option for e-commerce stores as this theme leverages WooCommerce to provide a great product layout.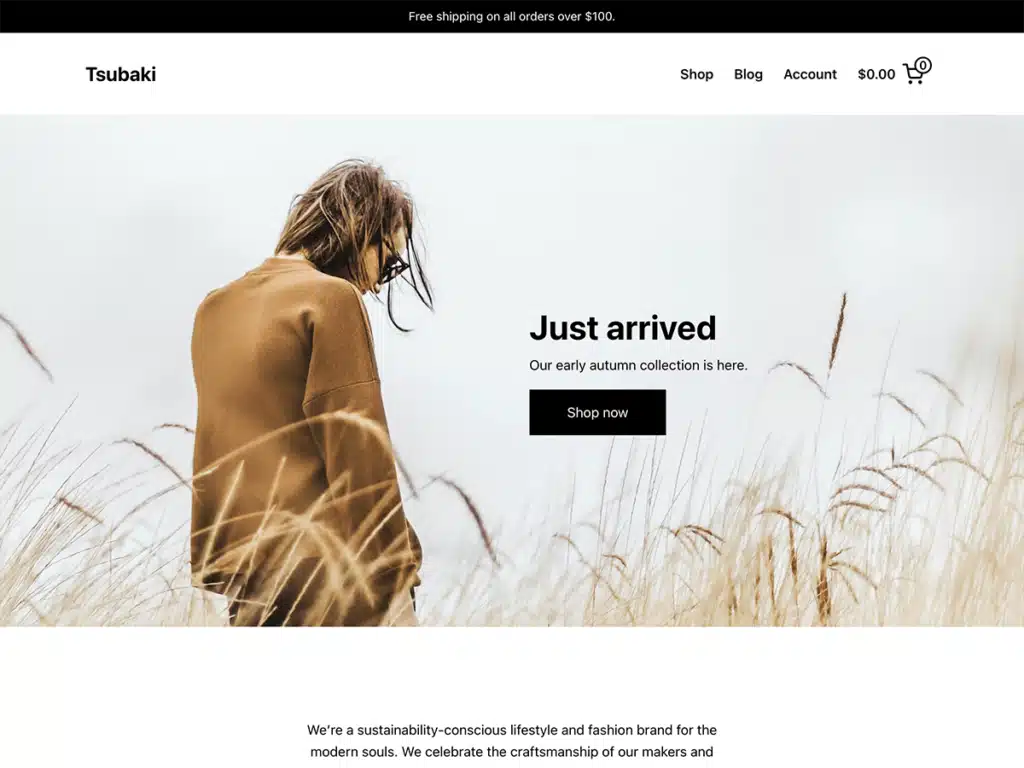 Meraki – a great theme for any bloggers out there. It's nice and simple, easy to set up and has loads of customisation opportunities.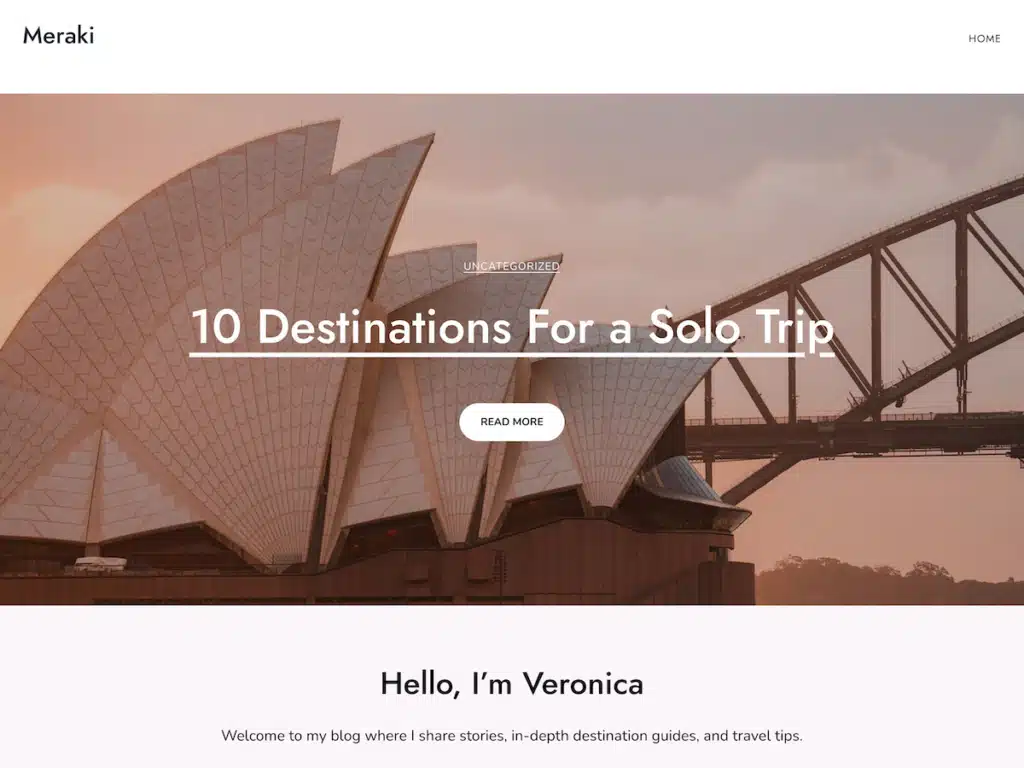 Quadrat Green – a simple and versatile theme designed for bloggers and podcasters alike.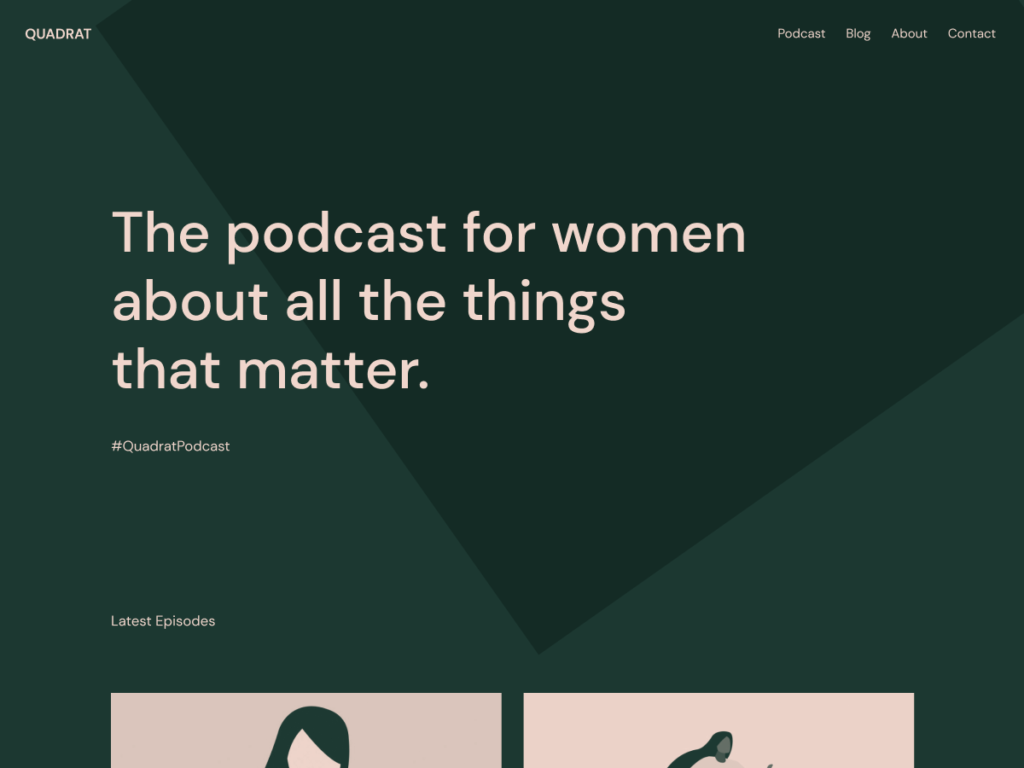 WordPress SEO basics
Meta descriptions
What are meta descriptions in WordPress?
Meta descriptions are the little bit of descriptive text below the page title that shows up on the search engine results page (SERP). For example:

A meta description gives the search engine user an idea of what the page is about and how that relates to their search query. Whilst it's unknown whether meta descriptions are an actual ranking factor, it's well known that they have the power to draw the user's click, thereby increasing your click-through rate (CTR). The higher the rate, the more people are clicking on your page.
Writing meta descriptions on WordPress is really simple, especially if you are using the Yoast SEO plugin. Click on your page and scroll down to the very bottom where you should see the Yoast SEO plugin. You can enter your meta description there – it also tells you whether your meta description is too short or too long, try to keep it under 160 characters.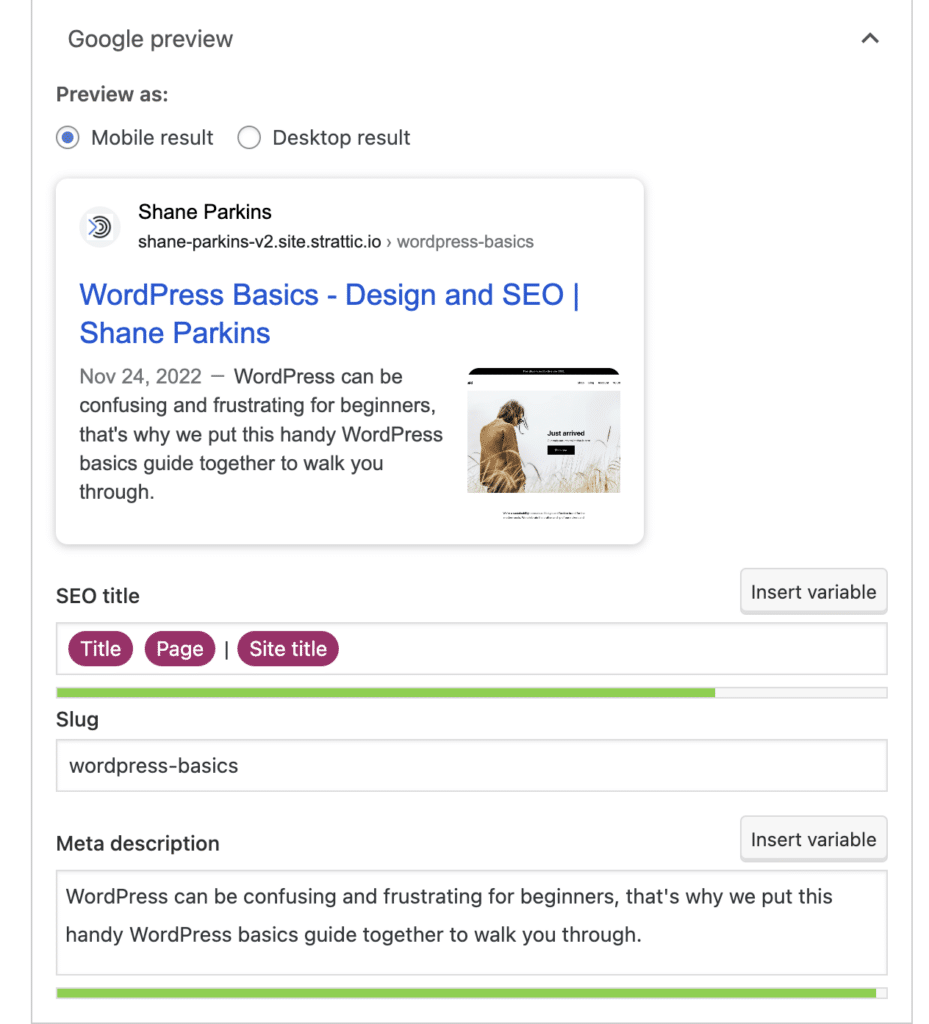 How to write good meta descriptions?
The advice for writing good meta descriptions usually just boils down to a few things:
Put your salesperson hat on and sell the page – what's unique about and what will the user find on it. Don't overdo the salesmanship though, we're not trying to make false claims about the page's contents, just trying to summarise it's unique selling point (USP).
Keep the meta description below 160 characters, the closer to get to that limit the better.
Include your keyword/s in the meta description.
Write a unique meta description for every page on your website. Duplicate meta descriptions can cause Google to rewrite them so it's recommended that you try your best to avoid duplicates.
Slugs
What is a slug in WordPress?
The slug is a part of a URL that comes after your domain and describes your page. In WordPress, it can be edited in the post settings on the right-hand side or you can click 'quick edit' in the pages menu to edit it. If you have the Yoast SEO plugin, you can also edit the slug in the menu below the page, as you saw above.
Since editing the slug of a URL will change the URL, it's recommended that you do this before publishing the website, otherwise it will break a lot of internal links. If you are changing them after publishing your site, just know that you will have to spend some time fixing the broken links. It's best to follow these SEO tips when messing with URLs.
What's the difference between a slug and URL?
The URL is like an address for any given page on the internet, each page has their own unique URL. A slug, as mentioned before, is part of the URL. It's what describes the specific page you're on. For example, the URL for this page is
www.shaneparkins.co.uk/wordpress-basics
The slug would be 'wordpress-basics'.
Best practices for slugs
Slugs offer an opportunity to further improve your page's SEO. Their main benefit being that you can include the keyword you wish to rank for as the slug. Since Google will look at the URL to determine what the page is about, including your keyword in there will definitely go a long way. Some other tips are:
Make sure the slug is short and to the point. Ideally, you want to avoid having more than two words. The shorter it is, the more user friendly it is so more people are likely to click on it.
Avoid capital letters, use hyphens to separate words, avoid any special characters other than hyphens and add a trailing slash at the end (WordPress will usually add the trailing slash for you).
Tags
What is a tag in Wordpress
WordPress tags can be used to group content together. Applying tags to blog posts creates an archive page (tag page) which indexes all of the posts with that tag. Not only does this have a great impact on your user's experience, it's also great for SEO as it gives search engines more context behind what's on those pages.
However, tags may be harmful for SEO when it comes to the archive tags that are created. This is because those pages have no unique content on them which isn't a great sign to Google. You can combat this by adding some content to your archive (tag) pages.
Best practices for tags in Wordpress
The best practices for tags in WordPress are:
Keep the number of tags under 15.
Make sure the tags are highly relevant to the post. For example, don't add an SEO tag to a PPC post.
Take time to add unique content to archive pages, this should help them rank better.
Site speed
How to speed up your WordPress site?
Site speed is important for both SEO and user experience. If users are clicking on your website, getting frustrated with how long it takes to load and clicking back onto the SERPs, not only did you just miss out on a potential reader/customer, but Google also noticed it. If this happens often, Google will start to see that users don't like your website and will be less likely to rank it highly.
Even if your website already loads quite quickly, improving your site speed can still be incredibly beneficial to you. Research by Portent shows that a site which loads in just one second has a conversion rate that is 2.5 times higher than a site which took five seconds to load. That's an incredible difference in conversions!
We actually have a mini guide on improving the speed of your WordPress site so I won't go in-depth on the topic here. I'll provide a summary of what can be done to improve site speed on WordPress instead:
Improve server performance
Pick a good hosting provider
Schedule website backups for off-peak hours
Delete unnecessary plugins
Keep your site as lightweight as possible
Make sure that plugins are updated
Streamline front-end code
If you're not entirely sure what needs to be fixed, we recommend running your site through Google's Page Speed Insights tool and then learning how to fix the most common loading speed issues.
How to add Google Analytics in WordPress?
Google Analytics is incredibly usual for tracking the performance of your site as well as analysing how users interact with it. Adding Google Analytics in WordPress is incredibly simple:
If you haven't already set up a Google Analytics account, do so first. Be sure to also set up a data stream from your website by adding your site's URL and name.
Copy your Google Analytics tracking code.
Head over to WordPress, find the appearance tab on the dashboard. Hover over it and find Theme File Editor.
Find and select the parent theme and then the header.php ( this should be on the right-hand side menu).
Paste the tracking code right before the closing </head> element.
Save your changes by clicking update file.
Now verify that it's working by using the Tag Assistant Legacy chrome extension made by Google.
Now that it's all up and running, you'll be able to see your website's stats live in Google Analytics.
Summary

If you've worked through this entire guide, hats off to you and your SEO-optimised website. If however, you found a few of these steps confusing, consider dropping me a line to see how I could help you improve your WordPress site or explore our WordPress SEO services to see whether we offer something you may be interested in.
Recommended Further Reading:
WordPress vs Wix – With Live Example Sites
How does social media impact SEO?
How to prepare for the holidays – seasonal SEO